Successful businesses continuously innovate and improve the core of what they do. But what about the innovations that upend an entire industry?
To thrive in those turbulent conditions, companies need to see around corners.
Whether the threat is imminent or theoretical, leaders in the firm of the future will run their core—today's engine—as efficiently as possible. But they will also create a new business—tomorrow's engine—that reflects new customer needs, new competitors and new economics.
This Engine 1, Engine 2 approach allowed Chinese Internet giant Alibaba to maintain more than 50% annual growth over the past decade.
The Alibaba Group, including online retail platforms Taobao and Tmall, holds a dominant position in China. The company has gained more than a 70% share of the country's consumer-to-consumer (C2C) and business-to-consumer (B2C) combined e-commerce markets.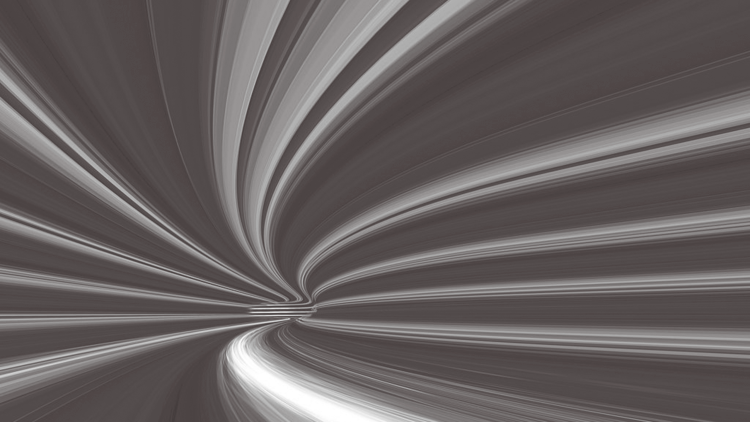 But the company didn't always play in these spaces. When Jack Ma founded Alibaba in 1999, he created an online marketplace to connect global businesses with Chinese manufacturers. The business-to-business (B2B) offering quickly took off.
In 2003, with the rise of eBay, Ma saw the opportunity to establish a domestic e-commerce website. While Alibaba.com was still running red hot, he founded Taobao for C2C transactions. The retail platform's gross merchandise value (GMV) quickly rose to nearly $30 billion by 2009.
Following the success of Taobao, Alibaba continued to invest in other adjacencies. Some complement the growth of Alibaba Group's core. Alipay, an online payment system, was launched to provide secure consumer transactions. Cainiao, a large-scale logistics network, serves the Alibaba ecosystem with faster delivery on a domestic and international scale.
But others venture beyond the e-commerce core, pushing the industry boundaries with fintech, media and cloud services. Alibaba Cloud, for example, provides cloud computing solutions to business customers, such as Philips and Zhejiang Securities, and the Alibaba ecosystem alike.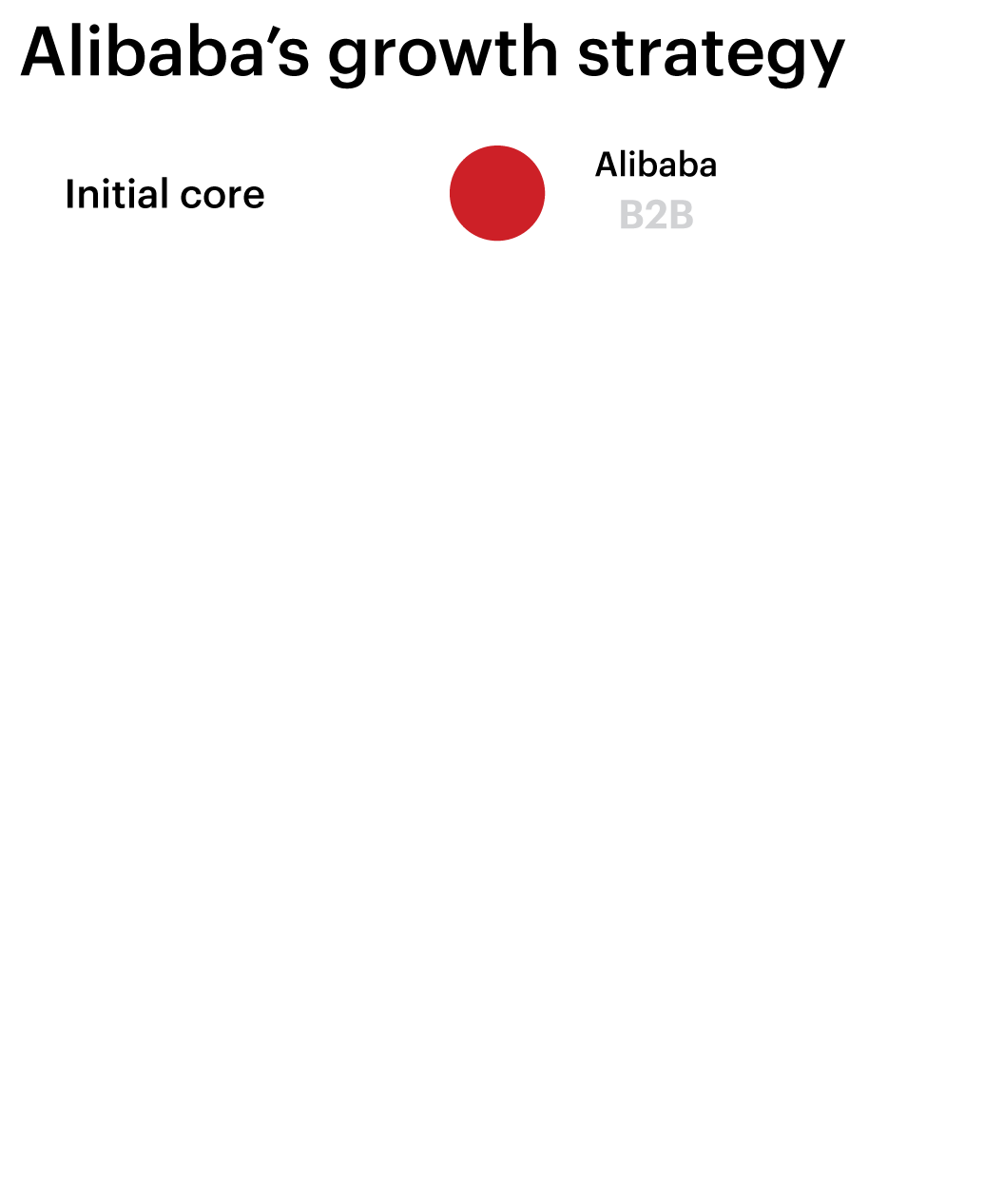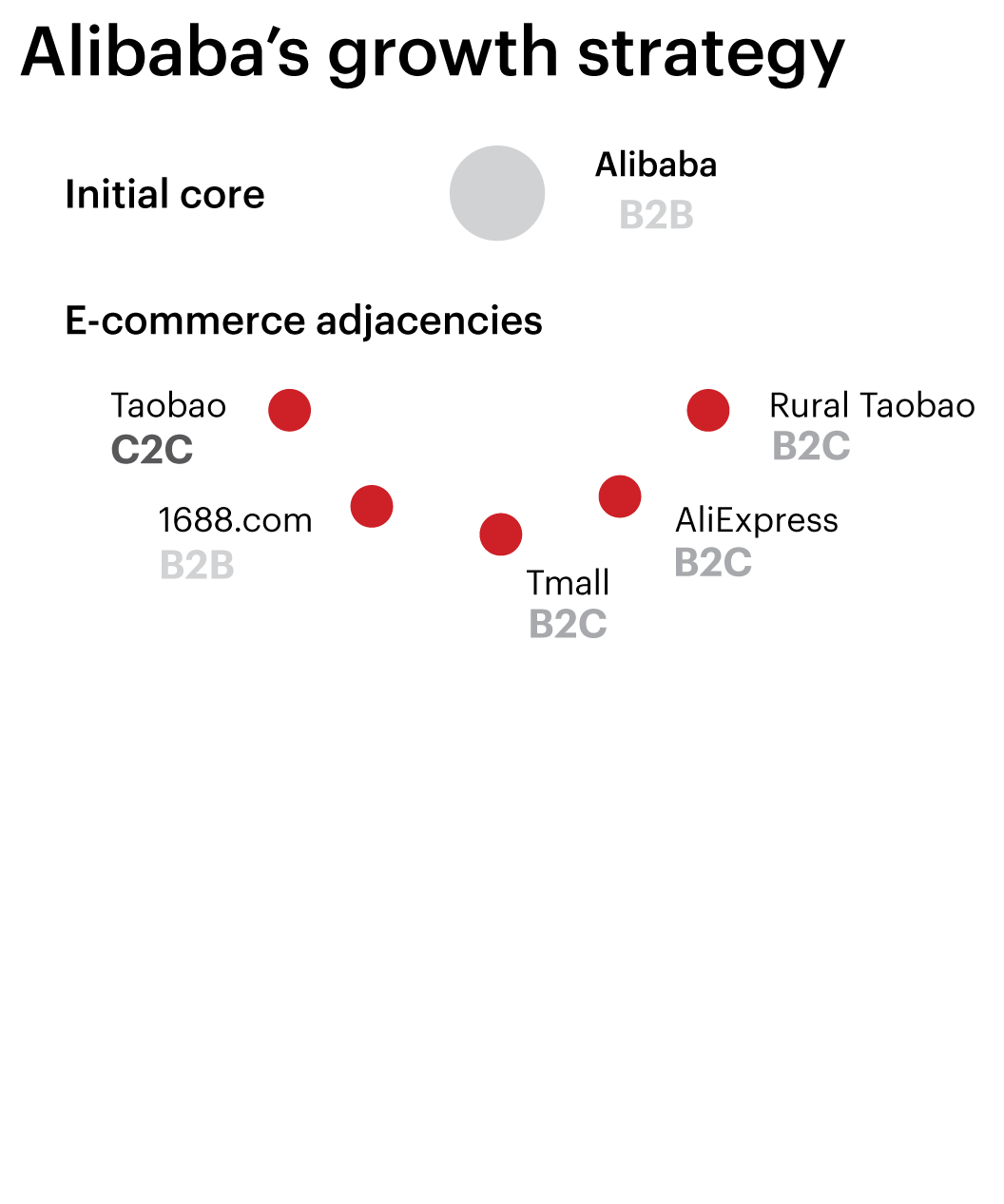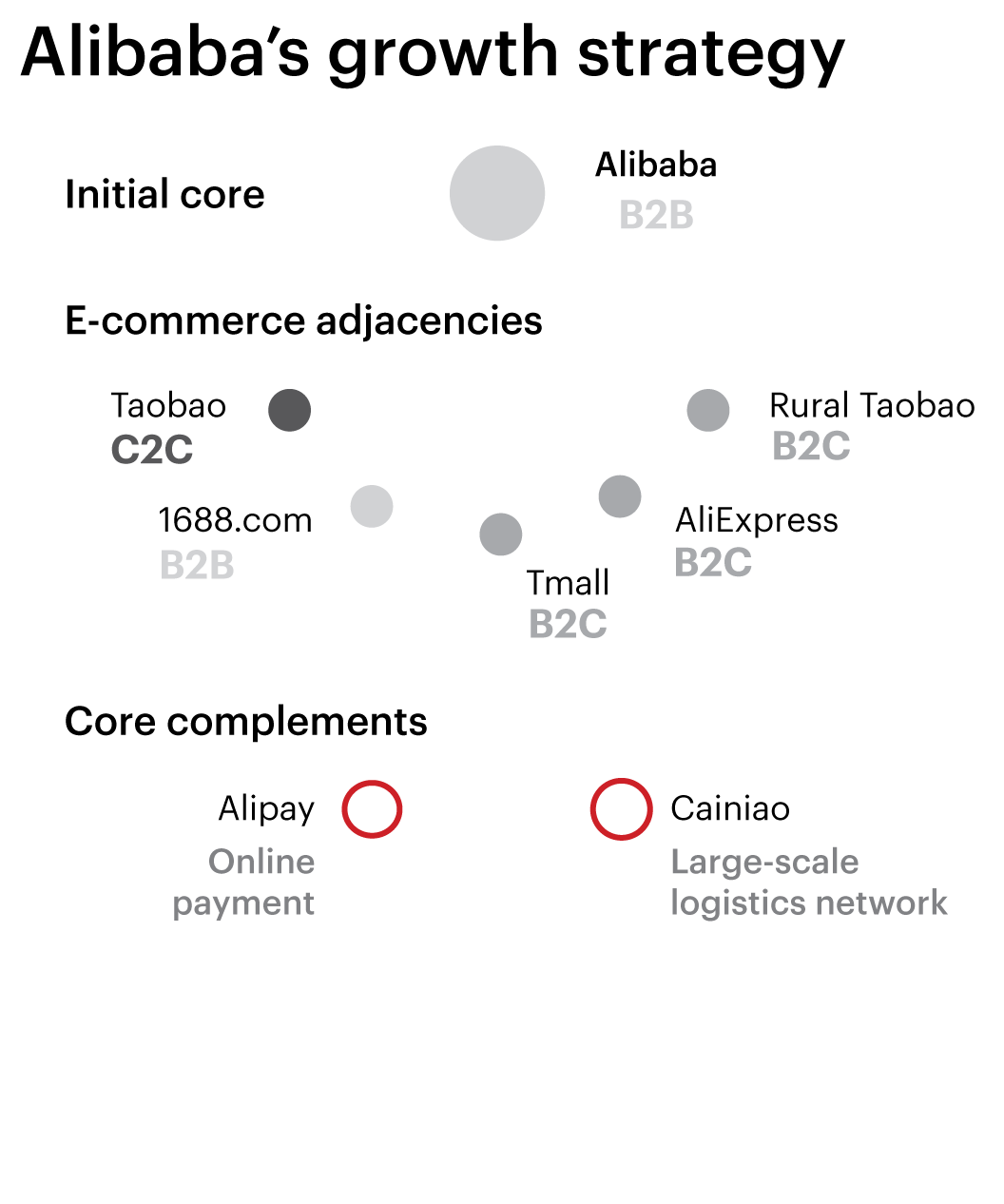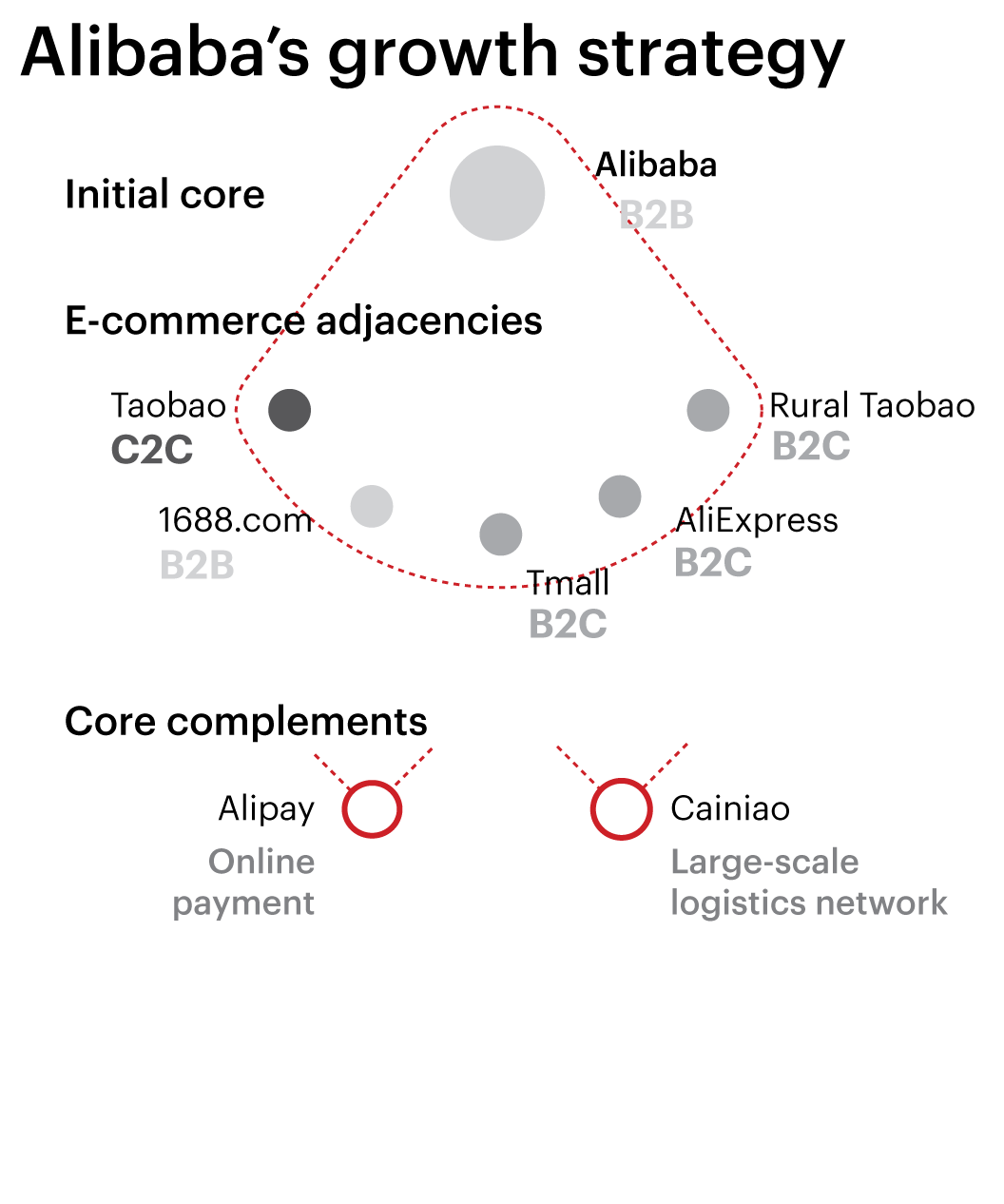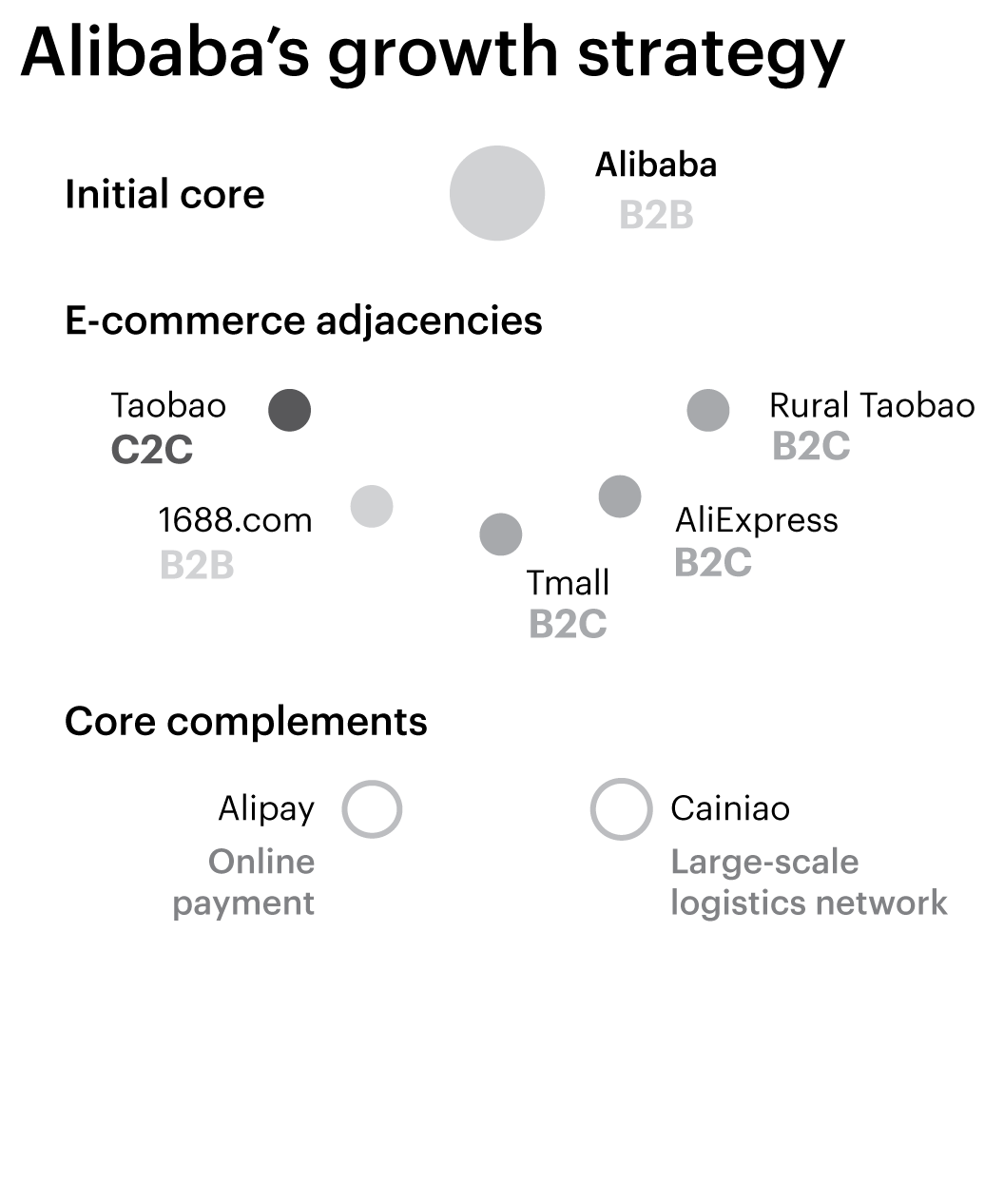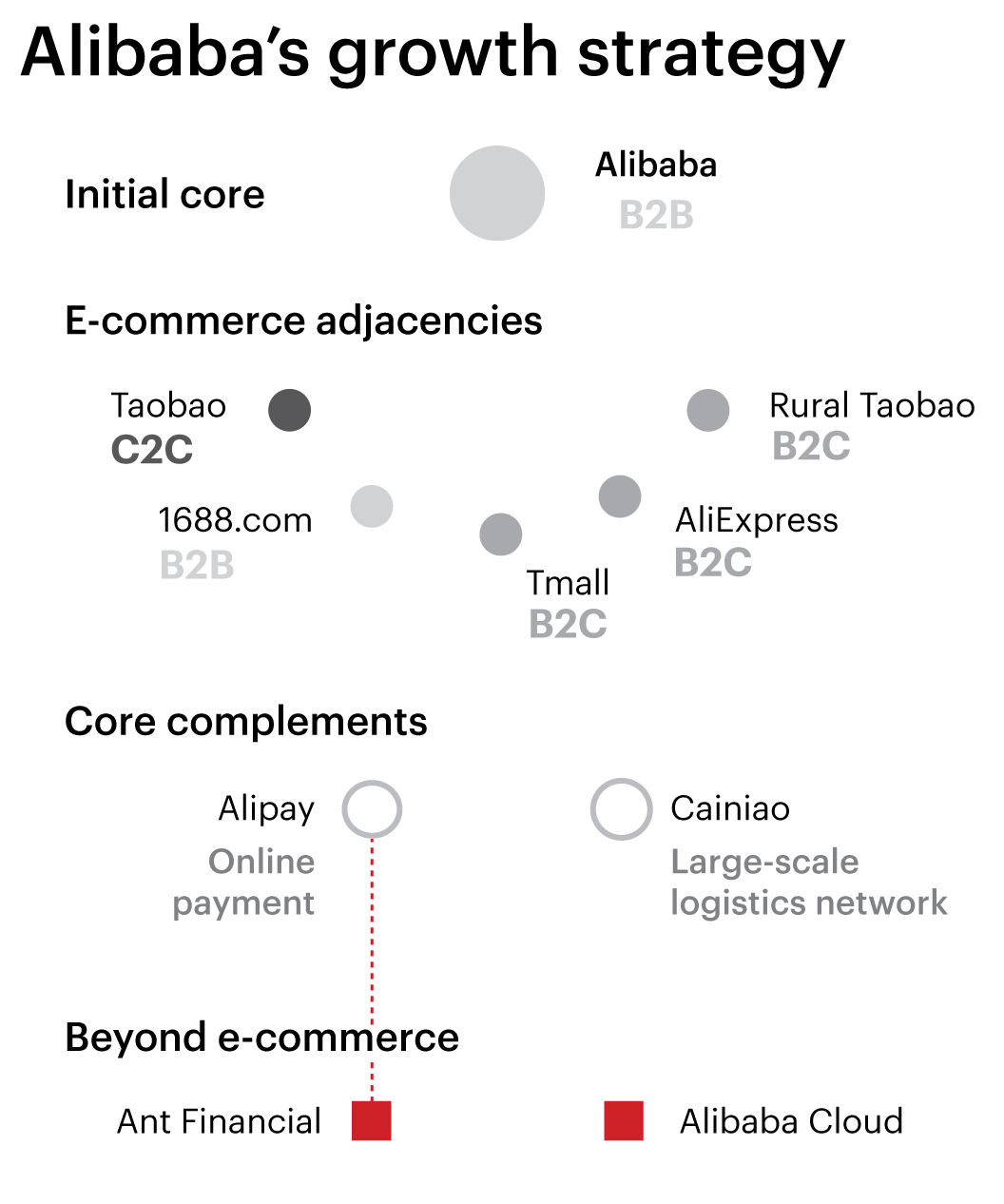 Regardless of industry, firms can borrow from Alibaba's playbook by proactively seeking new growth engines before signs of decline emerge in the core business.
But effectively growing Engine 2 while maintaining Engine 1 is easier said than done. Leading companies can learn three lessons from Alibaba:
Set the direction for Engine 2.
Alibaba's mission is "to make it easy to do business anywhere." It guides decisions to expand into services such as online payments, logistics infrastructure and cloud. In addition, this bold principle attracts top talent and investors with aligned interests.
Keep a balanced portfolio.
Some adjacencies should complement the existing businesses. When Taobao launched, many Chinese consumers didn't own credit cards. To support the platform's rapid growth, Alibaba needed to address a critical infrastructure gap. The solution was Alipay.

Other adjacencies should capture new growth opportunities further from the core. This limits the impact on the business when Engine 1 is disrupted. With the rise of digital streaming, Alibaba invested in an online video platform, Youku Tudou, and a music service, Ali Music.
Building an organization to nurture Engine 2 growth requires a few skills. First, new adjacencies need to be protected in their early days through organizational boundaries. When launching Taobao, Jack Ma tasked Alibaba founding member Sun Tongyu with leading a small development team as a top secret mission to protect the young company on an internal level.

In addition, rotating top talent through Engine 2 efforts can facilitate learning and accelerate growth. Ma relied on Eddie Wu, a top programmer and founding member of Alibaba, to subsequently lead product development for adjacencies, including Taobao, Alipay and Alimama. Wu went on to join the board of Ali Health.

Companies should also adopt Agile ways of working to continuously innovate. Alibaba employs Agile methods, such as A/B testing and Kanban boards, with strong middle- and back-office support, to rapidly launch products such as Taobao Live—its quick response to China's booming livestream market.




For the most successful firms in the coming era, managing two engines will be required. Like Alibaba, these firms will use their Engine 2s not just as new sources of growth but as vehicles to transform their companies into firms of the future.